NJPW Omega vs Okada is the Main event Wrestlekingdom 11
Okada (left) Omega (right)
I watched NJPW Power Struggle on NJPW World this past weekend and enjoyed the show and action as always. The card is now being built for Wrestlekingdom 11 in January.
Even before going into the event we knew what Kenny Omega – Bullet Club Member and Winner of G1 Tournament 2016 is going to go up against Current IWGP Heavyweight Champion Okada.
This match has been in the making for many months and is a huge match that could change the course of NJPW in 2017.
Kenny Omega earned the right to be in the main event match by Winning G1 Tournament. Omega had a stellar tournament and had some amazing matches 2 standout in particular vs Naito and vs Goto in the final.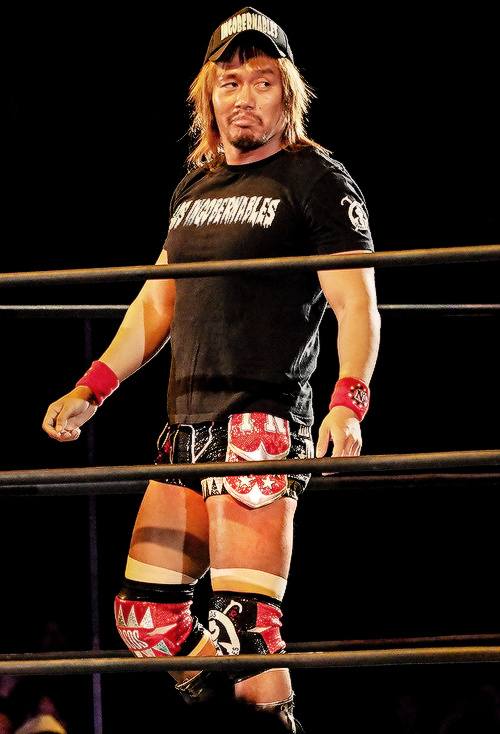 Naito
Naito is current IWGP Intercontintial champion and it was announced at Power Struggle that Naito would be facing Tanahashi with the story being whether Tanahashi is still able to hang and win the "big one at the big show"
In a recent interview Naito suggested that Japanese fans should be allowed to vote for what is the main event and feels that Omega vs Okada does not appeal to Japanese fans and feels that Japanese fans should be able to vote as to what match they want to see last at Wrestlekingdom.
To me this is a very blatant and pathetic attempt by Naito to push himself into the main event picture. If Naito was good enough he would be in the IWGP Heavyweight championship match – fact is he isn't.
Naito is also missing the point. Wrestlekingdom is being held in the Toyko Dome in Toyko, Japan (which had it not been issues with leave from work I would of gone too) Naito is missing the fact that due to NJPW World more non Japanese fans have access to see Wrestlekingdom and what NJPW has to offer.
NJPW isn't all about Japanese fans, NJPW is now a worldwide product that fans from all over the world can see live and as it happen so instead of a Japanese fan poll how about a World wide fan poll? I'm sure the results would be very different.
Naito is top seller in Japan but Omega and Bullet Club are best seller worldwide. Wrestlekingdom is a global show with Global appeal and as such I feel the main event should stay the same for the biggest prize iin Pro Wrestling IGWP Heavyweight Championship Kenny Omega vs Okada.
Naito if your not down with that I'v got two words for you……..