It has been 19 years since one of the most famous and infamous scenarios in Wrestling history. Bret Hart vs Shawn Michaels at Survivor Series 1997 Main Event for WWF World Title.
Bret who was being forced out of WWF in 1997 following Vince Mcmahon informing him that Vince could No Longer Honor Bret Hart Contract and that he was free to Negotiate with rival promotion WCW (World Championship Wrestling).
Bret took up that option and agreed a reported $3 Million a year contact for 3 Years with rival WCW.
Bret Hart was WWF champion at the time and WWF were trying to come up with a way for Bret to drop the championship before he left for WCW. Bret in his WWF contract had it stipulated that he had reasonable creative control in his contract for the last 30 days of his WWF agreement.
Survivor Series 1997 was taking place in Montreal and Bret Being from Canada proclaimed that "he did not want to lose in Canada as he was like a super hero to Canadians and didn't want his legacy tarnished" also there was a real life feud Bubbling between Bret and Shawn and Bret stated that "I am not dropping the belt to Shawn"
Alot of the hostility stemmed from things like the video below which is a promo between Bret Hart and Shawn Michaels where Shawn says Bret has been having alot of "sunny days" recently (in reference to WWE Diva Sunny)
Bret Creative control allowed Bret to negotiate with Vince Mcmahon when he wanted to drop the belt and who too. Instead of following tradition Bret wanted to come out on WWE Raw the next night and forfeit the WWF championship.
There were 2 issues with this
1, Bret wouldn't be under contract on WWE Monday Night Raw the next day
2, Nitro was airing live the same night, what if Bret took the Belt to WCW and appeared with it on WCW television and like Madusa threw the belt in the trash?
Vince Mcmahon was in a tough spot does he trust Bret Hart or does he do something to make sure that Bret doesn't leave his company with his title and potentially deal it a fatal blow.
As mentioned above Vince hasn't had a great track record when taking people on their word. Lex Luger left and Debuted on WCW Nitro and as mentioned above WWF Woman's Champion Madusa left WWF and dropped WWF Woman's championship in he trash on Live TV.
So Vince did what he thought was best for his business and he came together with Shawn Michaels,HHH, Gerry Brisco, Earl Hebner and they decided to end the championship match in Montreal early.
When Shawn got Bret in a Sharpshooter and without Bret Submitting Vince Mcmahon called for the bell early to end the match as did match referee Earl Hebner who darted out of the ring.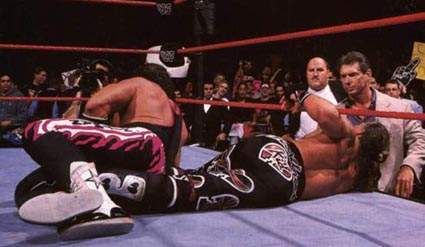 So all in one match and in seconds following the match all this happened......
1, Bret got screwed out of the WWF title Bret destroys TV Monitors and writes "WCW" in the air with his finger to the crowd.
2, Shawn Michaels becomes New WWF champion
3, Vince Mcmahon is a ringside and gets spat on by Bret Hart, they later in the locker room Bret Punches him in the face.
What happened to everyone involved following Montreal?
Bret Hart
- Won Financially gaining a $3 Million year contract with WCW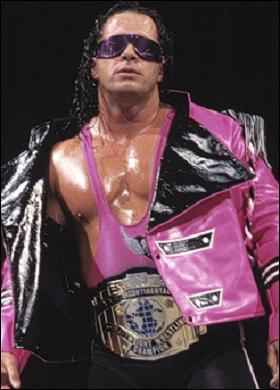 Bret Hart managed to get paid more in 3 years than he did in any other part of his career and made millions (more than WWF was able to pay him at the time) although Bret move creatively to WCW was in my opinion a bust, financially he did very well from it.
Some will argue that Bret was never the same after being "screwed" and that he lost his passion for the business and was never the same again.
Others would say
If it was Stu Hart Stampede Promotion and a guy wanted to leave and not lose the Stampede championship before he left do you think Stu or any or the Hart family would let that happen? No they wouldn't not a chance they would do what was best for Stampede.
During the course of Bret Hart last days in WWE in 1997 Bret Hart was filming a documentary called "Wrestling with Shadows" this tells the story of the Montreal screwjob from Bret perspective click the video below
No matter what side of the fence you are on and whether you agree or disagree Bret was a tremendous performer, wrestler and entertainer. This incident had a huge effect on him and changed the course of Bret career forever.
Shawn Michaels - Got WWE Title from Bret Hart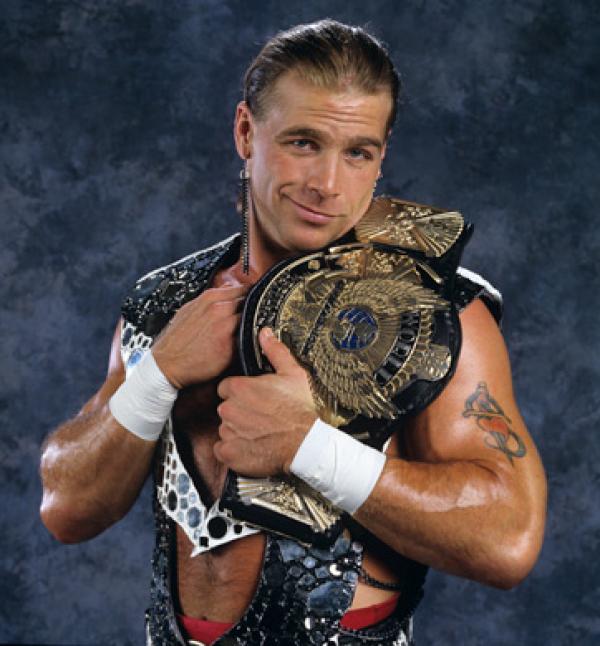 Shawn Michaels got what he wanted he became WWF Champion again and he managed to get the WWF title away from Bret Hart. It also ushered in the era and direction that Shawn Michaels wanted to go at the time, an edgy, all out there different approach to wrestling where you can say and do more and break what was the established norm.
Shawn Michaels is seen by some as Vince Mcmahon puppet and by others as a wrestler who had balls to do what needed to be done and to take the championship belt from Bret Hart, No matter what you take on it is Shawn went on to become one of if not the best in ring performer in the history of wrestling. He left wrestling in 1998 due to Injury but returned again in 2002 and went on to have an incredible carrer which culminated in Career vs Streak match vs Undertaker which Shawn. Shawn was inducted in WWE Hall of Fame in 2011.
Vince Mcmahon and WWE - Montreal changed the face and fortune of Vince Mcmhon forever and turned WWE into a Global Powerhouse
Unwittingly to both WWE and Vince Mcmahon in hindsight this was the best thing that ever happened. Vince Mcmahon become this evil owner that will stop at nothing to force his will on his company.
Vince did a tremendous interview with Jim Ross the following night on WWE RAW sincerely trying to explain his actions to the fans but at the end Vince Says

"Bret made a selfish decision Bret is going to have to live with that Bret Screwed Bret, I have no sympathy whatsoever for Bret"
You can see interview below
This led to a resurgence for WWE. WWE had been in a long term ratings battle with WCW and their show WCW Nitro. Vince Mcmahon decided after Montreal to be on Screen Character "Mr Mcmahon" who wanted to make sure that he had the "correct champion for the company"
This led to the tremendous Vince Mcmahon vs Steve Austin feud which is one of the best in wrestling history and ultimately without this WWE may not of been able to come back strongly at WCW and win the Monday Night War.
Love it or hate it without Montreal I don't think we have the WWE with have today furthermore we may not of had WWE at all.
Montreal changed the course of wrestling history.
In 2010 after years of animosity Bret Hart Returned to a WWE ring for the first time. Bret came out to the ring and called out Shawn Michaels.
Bret and Shawn agreed to bury the hatchet they hugged on national TV and finally brought closure to Montreal.
Thanks for Reading
@jon422002
Jonathan Orchard