CSF Wrestling – Devizes review 18 July 2015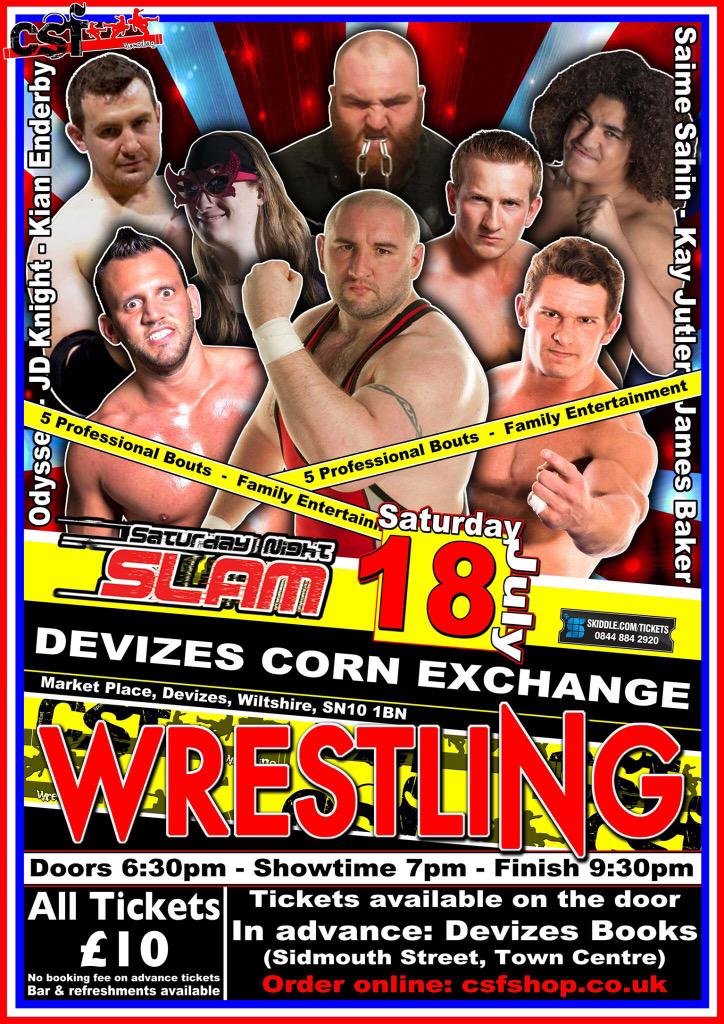 We are back in Wiltshire and this time for the first time in around 20 years Wrestling is

back at the corn exchange.
I cant believe it has been so long that wrestling has not been in Devizes! I think its great that CSF Wrestling have decided to take the opportunity and run a show. The Corn Exchange has been refurbished and has a very nice sized main hall where the wrestling will be taking place.
As I went past in my car there was a nice long line of people waiting to get in which is nice to see. I parked my car up and then went to get in the queue myself. I managed to get into the venue quite quickly and I noticed there is a bar outside of the hall where drinks/snacks could be purchased so that really helped because people then were not queueing up in the main hall for drinks! I didn't drink myself as I had to drive!
On walking in to the main hall I was pleased with the set up of the hall, CSF had done a great job with a nicely set up entrance area which was elevated as it was on the stage then wrestlers could walk down from there to the ring which was nicely placed in the centre of the room with good space around it and a great layout of chairs giving fans a choice of where to fit and a good all round perspective of the ring.
image courtesy of csf facebook page
I have seen CSF previously in Frome where I saw a great show with Talents like Kay Jutler, Tyler Hawke, Danny Walsh and More.
There was a good crowd of people and lots of noise
I took my seat towards the back of the arena and the show is ready to go!
The Matches were as follows
Nathan Bane vs Johnny Gunn
Now some people may not agree with the match card as there were 5 singles matches, but I disagree I think this was the right card for the right venue and here's why.

As I said above Devizes has not had any wrestling in over 20 years. Some fans like myself have seen some of the performers in other promotions but for a lot of children and adults this might be their 1st time seeing these wrestlers in action. Therefore I think I was clever to have an uncomplicated show where fans could have time to get to know the wrestlers and decide whether they wanted to cheer or boo them.
I think in doing that on this 1st show in Devizes will help when they come back to Devizes in October.
If some of the talent used of this show is used in November on their return to Corn Exchange with a mix of new talent it can help build the wrestlers involved and make people more aware of who they are.
I enjoyed the show and there were some real standouts (I am writing everything from memory here, so if anything is missed I apologise!) here are some quick comments on the matches, not as in depth as usual I apologise but I'm on the road again tomorrow for another show!!
Nathan Bane vs Johnny Gunn
I really enjoyed this opening match and Nathan Bane especially I was really impressed with, he dominated for most of the match with Gunn making a comeback only to be cut off again by Bane.

I felt sorry sorry Johnny Gunn he really put in a great effort here and he got hit with some big moves, will be interesting to see him again in the future too.
Bane got the win when he hit a spectacular and rarely seen spinebuster from the top rope – really enjoyable opening contest.
Lomax vs James Baker
Lomax I have seen previously at other shows and the guy is a beast and is extremely agile for a big man and is one of those special big men that has presence but is also very athletic.1st time i had seen James Baker wrestle and was impressed with him too. These two had a good match with each other and they both impressed with Lomax being cocky throughout the match.
James Baker managed to get the win with a roll p and beats Lomax
I have seen both of these men wrestle in 4FW before and both are extremely good performers. I am a massive fan of Tiger Ali, he is skillful in the ring, knows how to rile up a crowd and just gets better and better every time I see him – Tiger Ali will be a huge star in the world of wrestling I'm sure.

Ali tried to go after the left arm of Saint throughout the while match Ali would kick, hit and put submission holds on left arm of Saint systematically going back to left arm of Saint at every opportunity. Tiger Ali even modified his finisher the camel clutch in order to put more pressure on the left arm of saint. Ali was also using his flag to his advantage when referee wasn't looking. Saint managed to win the match win saint DDT
A lot of great talent on this show as iv already said but two fantastic wrestlers here again one on one. Two great personalities clashed here. JD knight who is one of the best bad guys in UK wrestling. JD had the fans the moment he walked out screaming and shouting at him the fans even started shout "JD Sucks" and doing the new day clap saying "JD Sucks" Saime Sahin is such a huge infectious personality people just seen to gravitate to him and his character. Saime has presence and he looks different, he acts different and he makes people laugh and smile and that is an all around package that is rare to see, so this match started off loud!
JD and Saime had a great match with each other the crowd loved it and JD managed to win the match. After the match, JD goes to shake Saime hand but instead hits him and then Tiger Ali comes out and joins in the beatdown until The Saint comes out and evens the odds and announces that on Next Devizes Show in November there will be a tag team match Saime Sahin and The Saint vs JD knight and Tiger Ali!!
Kian Enderby vs Odyssey
This was our main event of the evening. I heard an interview with Kian before the show. Kian is hometown boy from Devizes and was actually trained in Devizes. Kian was trained by none other than…..Odyssey.

So as Kian said on his BBC Wiltshire interview before the show

its mentor vs student in main event of his hometown.
A massive match for Kian.
This was my 1st time seeing Kian in the ring, I know Kian from many years ago when I was a kid and I know he has overcome a lot of previous injuries in order to be able to get back into the ring – after knowing him for a long time it was great to see him in the ring for the 1st time and showed that all the gym time, rehab and hard work really paid off for him.
I had seen Odyssey previously in Frome for CSF and a very impressive wrestler and athlete himself. Odyssey proved that at the beginning of the match and was dominant until I noticed Odyssey had difficulty moving and seemed to hurt his left leg after a move – he seemed to have difficulty with this all match which was a big shame – but Odyssey carried on all through the match which I applaud him for that couldn't of been easy.
Kian was able to Win the match when he hit and RKO of Odyssey for the win.
Kian celebrated with the fans, friends and family to close the show.
Its going to be interesting to see what CSF do in November, on the flyer after the show there is a picture of Big Grizzly Steve Griffiths. Now all talent is subject to change but Steve is a great talent from Wales who is really making a name for himself along with another Welshman Robbie Caine.
Grizzly and Caine have been having some great matches all over the country against each other – I'm not sure if its possible or not but if CSF could bring these two together in Devizes in November it could add a very dynamic element to the show. Along with Tiger Ali, Saint, JD Knight, Sahin and more they could build on an excellent show.
I think this show was a great starting point of CSF In Devizes and I'm looking forward to their future shows and to see what happens in the future.