WWE Royal Rumble 2013
Ziggler is Lucky Number 1 (or 2)
Dolph Ziggler
This Sunday 27th January 2013 WWE Royal Rumble will air. Generally One of the best WWE PPV's of the year. This year 30 Man Royal Rumble match has alot of intrigue built into it most people are of the opinion that John Cena will be winning this years event and then go on to face The Rock at Wrestlemania. However after seeing this past Monday's WWE raw WWE might have something else in mind.,.,,

Royal Rumble 2013
A Beat the clock challenge took place on WWE Raw and the winner of this we were originally told could pick their number for the Royal Rumble Match. Dolph Ziggler Ends up winning the Beat The Clock challenge then when he is bragging about this Vicki Guerreo informs Ziggler that it is not a free choice of Royal Rumble Entry number instead it is a number chosen within a certain range Number one to Number two.
Here's what WWE could do This I feel is the ideal opportunity for Ziggler to do what Shawn Michaels did in 1995 and go from Number 1 right the way through to win the Royal Rumble match. WWE have done this throughout the years had Wrestlers start off at number 1 and have a good showing in the Royal Rumble the most recent springing to Mind Being The Miz but eventually they fall short and end up eliminated.
Now others since Shawn Michaels in 1995 have won the Royal Rumble from Number 1 since 1999 Vince Mcmahon and Rey Mysterio have one from Numbers 1 or 2. So although has been done before this feat has not been achieved since 2006 (Since Rey Won) So I feel it is well overdue for another superstar to win this way.
Winning like this would help Ziggler immensely. Ziggler has the Money in The Bank Contract in his possession and that's great for him. Ziggler puts so much work into his matches and i always find them entertaining and captivating. The Only problem is that Ziggler has fallen short when it has come to the main event title match Ziggler has lost to Both CM Punk and Edge in Previous WWE and World Heavyweight Title matches. Ziggler did become World Heavyweight Champion for a few seconds in February 2011.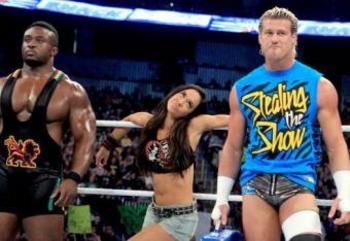 Ziggler Joined with AJ lee and Big E Langston
Ziggler has also had some great matches with John Cena recently and Ziggler has aligned himself with AJ lee and Big E Langston. Ziggler Also Beat John Cena on PPV in a ladder match (Although AJ interfered to help him win) and since then Ziggler has lost to Cena Twice on Raw both by Pinfall in a singles match and a Cage Match.
A win for Ziggler here would be huge it would really show all the fans that Ziggler can win the big match and also add so much intrigue to the WWE and World Title Situations The Miz said on WWE Main Event Ziggler could win the Royal Rumble and have a Wrestlemania match for the WWE Title and a Match from his Money in the bank Briefcase for the World Heavyweight Title - win both Titles and become Double Champion.
It would be great if this happened think this could do for Ziggler what it did for Chris Jericho when Jericho became the 1st Undisputed WWE champion. Although as I said above the "Smart Money" is on "established guys" this could be an oppertunity to turn Dolph Ziggler from Superstar to Wrestling megastar. We shall see Sunday!!
Thanks for Reading @jon422002