Karl Anderson and Luke Gallows
Let them off their leash WWE
Karl Anderson (left) Luke Gallows (right)
Karl Anderson and Luke Gallows two talents that took wrestling by storm as two of the founding members of the Bullet Club a faction originated in New Japan Pro Wrestling.
Gallows, Anderson along with AJ Styles, Young Bucks, Kenny Omega and many more in the group made Bullet Club the most talked about faction on all of wrestling.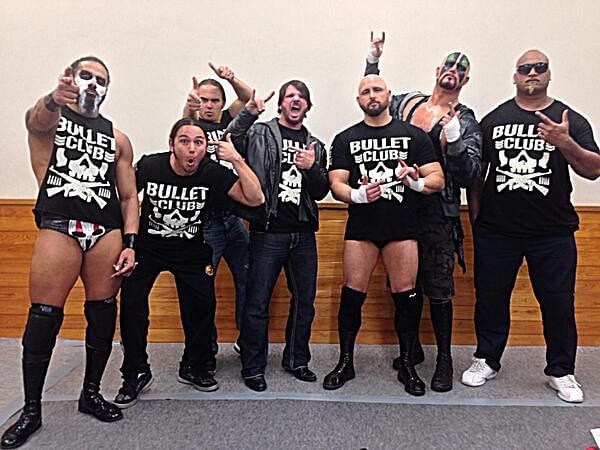 Bullet Club
This is the kick ass Anderson and Gallows from NJPW they take out an interviewer after their match see the video below
Due to Bullet Club popularity it caught the attention of WWE and in Early 2016 WWE signed Karl Anderson and Luke Gallows to WWE contracts and they debuted in WWE on April 11 2016 attacking The Usos after their tag team match.
It was a great entrance and way to Debut Anderson and Gallows, but what started out as a great beginning has not flourished through the rest of 2016.
This isn't due to Anderson and Gallows every performance they give in WWE is believable and they come across so well as themselves.
They came in to WWE with so much anticipation and so much hype. WWE fans knew exactly who they were when they debuted and fans were excited as Former Bullet Club members Finn Balor (Fergal Devitt) and AJ Styles were already with the company. Fans were salivating at the possible opportunities.
What WWE didn't go was go with the momentum that Gallows and Anderson had.
AJ Styles, Gallows and Anderson all joined together on WWE TV and they were named The Club, they were doing great really starting to build themselves and catching on, social media was exploding with hashtag #BeatUpJohnCena and Gallows and Anderson looked ready to progress.
You can see the video below
Then Something else happened......
WWE decided to have 2 separate brands Raw and Smackdown and during he draft on July 19th 2016 in a strange move AJ Styles was drafted to Smackdown and Gallows and Anderson were drafted to Raw.
So a group that had become popular and barley been together for 3 months had caught on with WWE audience and were now heading in opposite directions it didn't make sense then
and doesn't make sense now.
The Club, Gallows (left) Aj Styles (Middle) Karl Anderson (right)
Even more ridiculous WWE broke up The Club before their shirt even came out on WWEShop.com it really didn't make sense and meant everyone in the group started over again.
The Club Tshirt
Gallows and Anderson on WWE Raw as a tag team on their own and feuded with The New Day. WWE went a different direction with Gallows and Anderson and did a comedy bit with Them as doctors and Dana Brooke as a nurse it was a fun segment and something different from Gallows and Anderson it showed their humour but maybe confused the fans a little seeing two ass kickers suddenly in a more comedic role. Anderson and Gallows Won a match at Summerslam vs New Day but it was by DQ therefore New Day Kept the tag team titles.
I thought Anderson and Gallows had turned the corner when on WWE raw instead of letting Dudley Boyz to have there moment and retirement in the ring they came down and gave magic killer to Buh Buh Ray Dudley and another magic killer on Dvon through a table and Dudleys haven't been seen since, a huge moment for Anderson and Gallows destroying the biggest tag team in wrestling history.
You can see the video below
This was such a huge moment that wasn't capitalised on by WWE to build Anderson and Gallows as the guys of the future and the tag team that is going to dominate in WWE.
At WWE Clash of Champions Anderson and Gallows lost to New day in a WWE Tag Team Title match that should of been the match in my opinion where the titles changed and started to build them.
At Survivor Series Anderson and Gallows were on the winning side in 10 on 10 Tag Team Elimination match.
WWE hasn't allowed Anderson and Gallows to regain the momentum and build the Momentum they once had. Anderson and Gallows are credible ass kickers but they haven't been presented as such.
Triple Threat Tag Team Match on Raw
This Monday on Raw they have an opportunity to become WWE tag Team Champions in a 3 way match vs New Day and Sheamus and Cesaro if they or Sheamus and Cesaro win then New Day will not be able to break Demolition record breaking tag team run.
This is the opportunity to make this one of the most meaningful Title changes in History and to have Anderson and Gallows
win the titles and earn instant credibility and earn even more or the ire of the fans for putting an end to a potential history making moment for the New Day.
WWE its Time to let Anderson and Gallows off their leash.....
Unfortunately Gallows and Anderson lost on WWE Raw and New Day are now longest running WWE Tag Champions in History.
WWE missed another opportunity to make Anderson and Gallows mean so much more, how many times will they be passed over and not given an opportunity to run with the
ball?
With the way they have been treated on Raw and Smackdown needing more viable teams maybe a move to Smackdown where they can reunite with AJ Styles is the way to go?
Anderson and Gallows are two talented individuals if they cant get the opportunities they need in WWE they can always go somewhere else remember
Bullet Club is for,for,for,for life.