My memories of WWF WWE ECW Justin Credible
I first remember seeing Pj Polaco as a kid in WWE, although I never knew it was him at the time. Back then the Internet didn't exist and I only got to see wrestling when I went over to my friends house on a Saturday morning. There used to be WWE highlights show or WWF superstars at the time and we would sit and watch these shows and get to know the characters and enjoy the matches.
At the time PJ Polaco was going by the name of PJ Walker and I remember seeing a match he had against a bog Russian wrestler WWF were pushing at the time ludvig Borga this must of been around 1993 i think i have managed to find the match below click the video below to see
PJ walker vs Ludvig Borga
I also remember after this and it sticking in the mind really well for some reason the massive Yokozuna vs PJ Walker but this much was on WWE Raw and at the time we didn't get Raw in the UK so it must of been on a highlight show or something but i can remember the match and feeling sorry for PJ Walker at the time getting thrown around by a man so big in Yokozuna.
PJ Walker vs Yokozuna
PJ Walker also got to face "The Undertaker" on an Episode of WWF Superstars
PJ Walker vs "Undertaker"
PJ said in an interview that his 2nd Character came about by chance and that Pat Patterson and Vince Mcmahon were looking for a Portuguese Character and he happened to mention that he is Portugese when he met them and one thing led to another and he was signed to WWE as Aldo Montoya.
I remember seeing PJ Polaco 2nd character Aldo Montoya. again it was another character that at the time i didn't know that he did. Back then the only thing you knew as a kid was what you saw on your TV.
Aldo Montoya on these shows he was referred to as the Portuguese man o war and wore a yellow mask to the ring. here is an early match from Aldo Montoya on WWE Raw vs David Sierra
Aldo Montoya vs David Sierra
Aldo Montoya teamed up with 123 kid (Sean Waltman)) to face The Heavenly Bodies i have managed to find the match click on the video below to watch
123 Kid and Aldo Montoya vs Heavenly Bodies
You may not realise it but Aldo Montoya at the time was working with future WWE legends and Hall of Famers Aldo had matches with Steve Austin, Mankind, Undertaker, Sid and Jerry Lawler below are some of those matches.
Aldo Montoya vs Jerry Lawler
Aldo Montoya and Avatar (al Snow) vs 123 Kid and Sid
Aldo Montoya vs Mankind
Aldo Montoya vs Steve Austin
It was around this time in WWE that PJ became friends with a very influential group in WWF at the time The Kliq. Pj has said that he became friends with Scott Hall and Scott took him under his wing taught PJ the business and helped him alot during his career. PJ is still very good friends with Scott and the rest of the members of the Kliq to this day. PJ says that being around Shawn Michaels, Kevin Nash, Sean Waltman, Scott Hall and Triple H helped him learn so much in such a short space of time from what he says is "the Best Group in the business i couldn't of learnt from anyone better"
On from this PJ continued to work hard in WWE but he recalls going to see Vince Mcmahon after Kevin Nash and Scott Hall Left and Telling Vince that he wanted to work more and that he didn't want to be Aldo Montoya. Vince Mcmahon wouldn't let PJ go and move to WCW to be with Kevin and Scott he reportley told PJ that was out of the question so instead Vince let PJ move to ECW (Extreme Championship Wrestling) without losing him to WCW.
This is where the career of PJ Polaco Changed no longer was he a wrestler he was about to become a champion. PJ came to ECW and Jason Knight introduced us to him as Justin Credible.
As Justin Credible i feel that PJ was finally being allowed to show what he could do and what he could be given the opportunity. More in depth, high profile Matches, Great Promos and Title Defenses.
It was a fantastic part of his career PJ went to ECW and Became an ECW Tag Team Champion with Lance Storm as The Impact Players and then from this PJ then Won the ECW World Title and had a tremendous run in the promotion
Highlights of PJ ECW run below
Justin Credible and Lou E Attack Billy Corgan
http://www.wwe.com/videos/justin-credible-lou-e-dangerously-attack-smashing-pumpkins-singer-billy-corgan-e-26114569
Raven and Tommy Dreamer vs Justin Credible and Lance Storm
Justin Credible vs Tommy Dreamer (Justin Wins ECW Title)
ECW Champion Justin Credible vs Raven
With financial issues biting at ECW PJ was re signed by WWE in February 2001, I was very excited to see PJ (as Justin Credible) back In WWE I remember when he debuted because I was such an exciting time in wrestling. Wrestling was starting to change so much and the landscape was changing I thought this was a great move by WWE.
PJ joined with Xpac and then Albert and they formed a great trio called X Factor. I really enjoyed X Factor and their matches although they were a bad guy group I really liked their them music by Uncle Kracker "what Chu lookin at" and still have it on my ipod today!
You can listen to the original WWE X Factor Uncle Kracker theme
you can watch PJ WWE 2001 Debut by clicking the link below
http://www.dailymotion.com/video/x287zc4_justin-credible-wwf-debut-wwf-raw-02-12-2001_sport
Goldust vs Justin Credible
Here is a 6 man tag team match x factor vs Billy Gunn and Hardy Boyz

6 man tag team match WWE Metal vs Rob William, Chris Harris and Doug Basham
PJ wont he WWF hardcore title 8 times while he was there and towards the end of his run had his last match at this time with Batista on WWE Raw

PJ then left WWE and wrestled for several independent promotions working for TNA being a mystery opponent for Raven he also faced Jerry Lynn in TNA in a last man standing match you can watch the full match below
Justin Credibel then came back to WWE and Returned to ECW One Night Stand and hit Chris Jericho with a kendo stick to help his old Impact Player tag team Partner Lance Storm win his match.
Justin Credible was also in WWE vs ECW Battle Royal on Raw you can see the full match here
Justin #Credible in 2006 also had CM Punk 1st match in WWE you can see what happened by clicking the video below
Justin Credible and CM Punk also had a rematch following his debut which you can see here
PJ in 2007 was released form WWE and Wrestled in many independent promotions all over the world and all across America too. PJ had many quality matches.
Please see match below from PWA in 2014
After leaving WWE PJ then told the world and detailed his difficulties with addiction. PJ talked to Steve Austin on the Steve Austin Show about his career and addiction in particular. PJ was very honest about his situation and talked honestly about the person he was at this time and person he had become. i have major respect for PJ to be able to be on a podcast and come out and say all this. It mustn't of been east for him and he told his story so that others could learn from it. PJ detailed how difficult it was to get over his addiction, what rehab was like and how much faith he has now and how he deals with addiction day to day.
Please click the link below to listen to PJ Interview on Steve Austin Podcast it really is worth the listen
PJ also after he left WWE wanted to give something back to future generations of young wrestlers. PJ is a big believer in learn from the veterans of the business and having respect for the business too. PJ decided to start his own Web Series called Pro Wrestling 101.
Pro Wrestling 101 covered many aspects of being a wrestler from Etiquette to Selling. You can click on the link below to find the full list of videos. PJ also did Pro Wrestling 101 with Scott Hall, Terry Funk, Dustin Rhodes, Lance Storm among others.
PJ last match will be vs Tommy Dreamer on Friday 20th November 2015 and following this PJ is going to retire you can read about the upcoming match below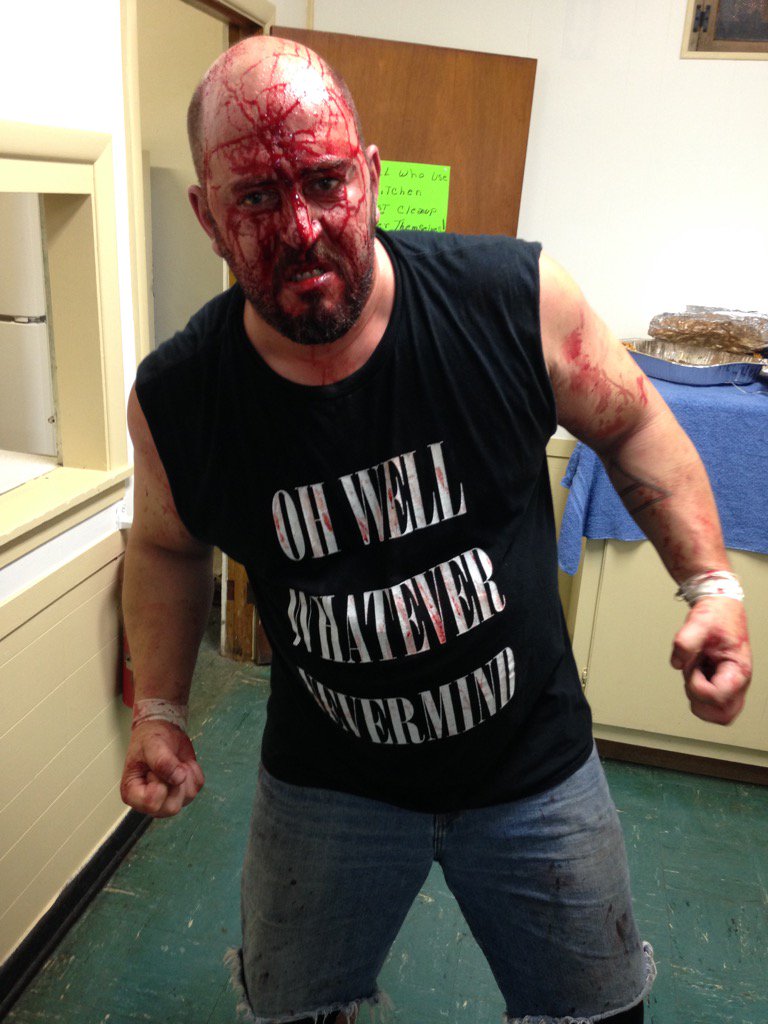 I would like to say to PJ well done on a fantastic career spanning so many decades and so many matches and great moments. Over 20 years in the wrestling business in WWF,ECW,TNA and may more.
On a personal note PJ thank you for helping me learn from you, thank you for the conversation, debate, tweets and for getting me into 30 seconds to Mars and their music. Thank you for entertaining me over the years too.
Its wasn't just the coolest it wasn't just the best it was Justincredible!!!!!