WWE Announced today the formation of the WWE UK Championship Tournament and their intent to have a weekly UK produced TV show on WWE Network.
At 02 Arena WWE held a press conference With Triple H, Michael Cole, William Regal, Nigel Mcguiness and Finn Balor.
You can check out video clips below
Triple H announces WWE UK Championship and Weekly UK Wrestling Show on WWE network
Finn Balor on WWE UK Championship Tournament
Nigel Mcguiness is coming to WWE UK Championship Tournament!
WWE then brought out all the talent involved in WWE UK Championship tournament see all the 16 competitors below
WWE UK Championship Competitors
There is so much tremendous Talent involved Pete Dunne, Trent Severn, Tyler Bate and many more.
I have had the pleasure of seeing Tyson B Bone recently at Pro EVW he has tremendous strength and ability will be interesting to see how he does and also I saw Jack Starz at CSF Wrestling.
On personal level and a special mention from me it was great to see Tiger Ali included.
Tiger Ali in action vs Eddie Ryan - CSF Wrestling Frome
Tiger Ali
Tiger Ali is a tremendous talent that I have seen in 4FW, CSF and PWP. I have been watching him over a number of years and He plays a great character and I saw him as recently as 3 weeks ago Wrestling for CSF wrestling vs Eddie Ryan.
Tiger is definitely one to look out for in this WWE UK Championship tournament.
Triple H also announced that WWE will be Intending to do a weekly UK episode every week for WWE network going forward similar to 205 live and WWE NXT.
That suggests that WWE may tape many shows in one go and then present them on TV similar to WWE NXT schedule. This is such an exciting development for WWE and UK wrestling.
For the 16 Wrestlers chosen it gives them an opportunity to showcase their skills but if WWE does indeed carry forward with a UK weekly WWE Network episodes then it could provide even more opportunity for wrestlers not currently in that Group of 16.
It creates a New goal for UK wrestlers to make it to WWE UK and to showcase themselves on WWE Network to the world what an amazing opportunity.
WWE will be constantly looking for more talent and to enhance what UK is producing. WWE in their press conference today stated that "we want to be the bridge between independent wrestling and WWE"
I think praise has to be given to men and Women that in the "dark days" of British wrestling represented it and kept it going when it wasn't an "in thing" to be a UK wrestler.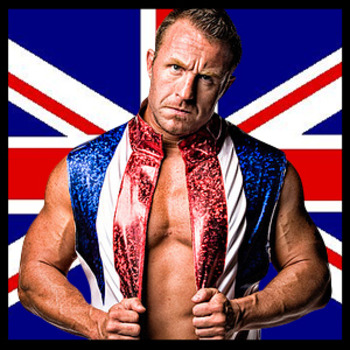 UK own Doug Williams
UK Promotions like Brian Dixon All Star Wrestling kept going through those dark days.
Tremendous talents like Doug Williams,Robbie Brookside,Grado, Bram, Rockstar Spud, Dave Taylor, William Regal, Johnny Kidd, Dean Almark, Finlay, Nick Aldis and too many more to mention who plied their trade all over the world in many different promotions representing what was great about UK wrestling.
Let us not forget Without people like Doug, Robbie Brookside and many others you would not have UK wrestling scene you have today in 2016.
Many of them helped keep it alive in the terrible lul after Wrestling disappeared from UK TV in 1980s and over the years helped produce the future that we have now and that will appear on WWE Network.
To those people who kept UK Wresting Scene alive I say to them, from me and on behalf All UK Wrestling fans a huge thank you
For UK Wrestlers and UK Wrestling and UK Wrestling fans WWE announcement today has given us more than we could of ever hoped or dreamed of.