WWE NXT Cardiff Results 15 December 2015
This event from WWE was incredible its definitely been the best WWE Live event i have attended in the UK.
The show had an energy all night long the fans were so into the wrestlers and the product too. Every match meant something and it was really good to see such a brilliant atmosphere.
Tonight was so different too WWE shows i had been too in the past. At this how we had two tag team matches plus 3 woman's matches and had Tag Team Titles, Woman's title and NXT title all on the line too.
It felt different and the card was put together really well, getting to see such a variety of talent in matches was key.
Enzo and Cass kicked off the night so well, they got such a reaction the crowd talking along with them as they did their signature entrance, lots of How you doing? chants during the match and lets go Enzo and Lets Go Cass. Blake and Murphy played their roles as bad guys in this match really and they were shouting and interacting with the crowd when Enzo started Dancing and annoying them!!!
Asuka was so unique the way she looks and the way she wrestles too she is a very unique wrestler and her striking and submission definitely brought something else to the show tonight. Alexa had a good showing in this match too, I like her look and Blond with Red hair at the end looks great and she fought toe to toe with the tremendous Asuka
This show really took me by surprise i thought i knew the wrestlers well and thought i knew what to expect but here were some real standouts and I'm now a fan of Bull Dempsey, Tye Dillinger and Jordan and Gable.
In the case of Bull Dempsey he was facing Tye Dillinger and they had a great match, they used comedy in their match and Tye kept on going and getting his "10" sign and showing it to the crowd the ref took it away and he brought out a smaller one, which then Bull took and threatened to eat and instead put it in his singlet! They were an important element to the night because they got me laughing and they had me entertained. They can both do great wrestler too, but they didn't need to they went out there and they entertained me in a different way a massive thanks to Bull and Tye there aren't too many that can do what you can do as well as you did last night so thank you.
Carmella Came out next and she was doing her talk during her entrance and again showed how strong she connects with the crowd. Enzo, Cass and Carmella have really carved out an amazing niche for themselves. Nia Jax is an incredible sight to see her sheer presence is incredible, handled correctly she can be a huge huge star in WWE in the future.
Apollo Crews and Baron Corbin these two told a great story with Baron trying to beat Down Apollo as much as he could to try and stop him from using his ability, agility and skill to get the win. Apollo was great skill and Baron has again I'll use that word presence I really enjoyed this.
Jordan and Gable got such a strong crowd reaction crowd were chanting football chants at them and the noise was so loud, but not only that Gable and Jordan are athletic machines! Gable is pure wrestling and honestly was incredible he got an NXT chant after he was wrestling int he ring. Gable and Jordan really encapsulated what NXT is all about great wrestling and fun to watch.
Bayley and Emma were up next i liked that WWE did Bayley full entrance and we had Bayley come down to the ring with her inflatable air wavers as i call them that was a nice touch by WWE. Emma and Dana Brooke Came out and Dana didn't wrestle tonight but played an important role on the outside trying to help Emma beat Bayley unfortunately Dana eventually got herself kicked out. I did like Dana Posing in the ring!!!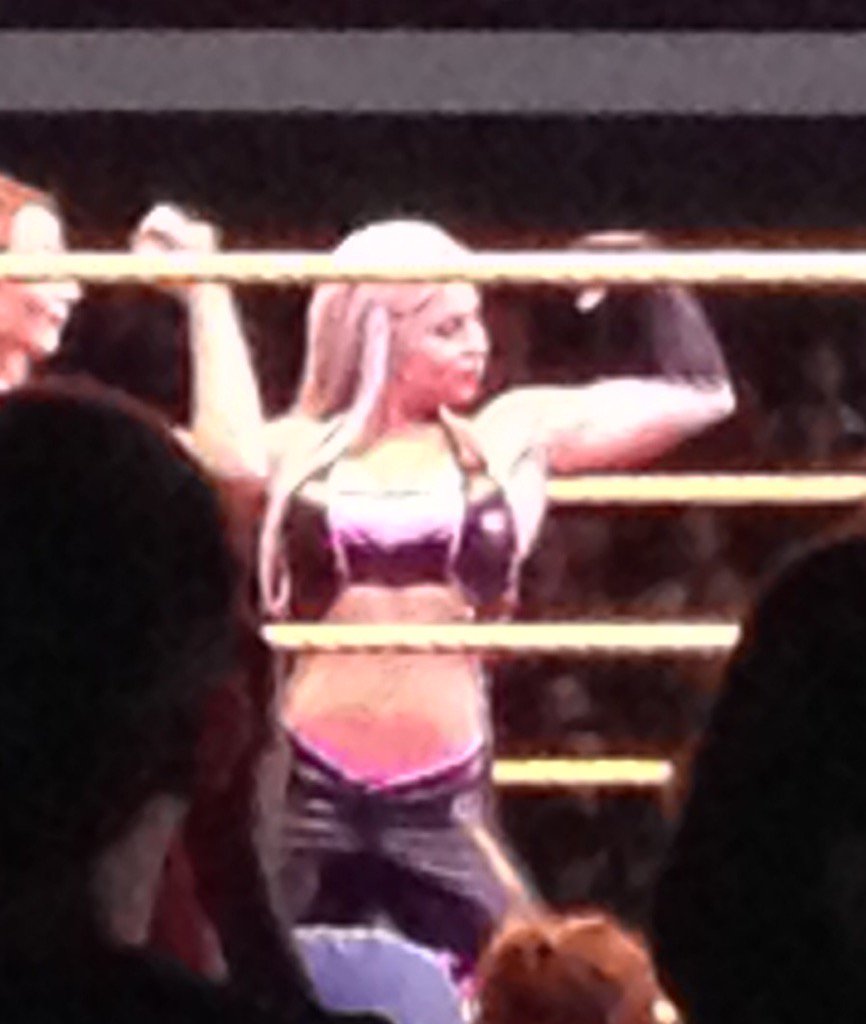 The main vent with Finn Balor Sami Zayn and Samoa Joe was tremendous it was great to see such great talent in the ring. The main event felt big and not only again as has been the heme on this show, we show great wrestling and we were entertained too, there was a funny moment where Finn dressed up like Sami and Sami dressed up like Finn and were copying each again they made me laugh and entertained me with humour and top class wrestling. Finnn Balor won the match by hitting double foot stomp from the top rope onto Sami who was in the Clutch by Samoa Joe.
All photos in this blog are taken by me, so apologies for quality of them!!
Match results and photos listed below
Enzo Amore and Colin Cassidy def. Blake & Murphy
Bull Dempsey def. Tye Dillinger
Apollo Crews def. Baron Corbin
NXT Tag Team Championship match
Champions, Dash Wilder and Scott Dawson def. Chad Gable and Jason Jordan
NXT Women's Championship match
Champion, Bayley def. Emma
NXT Championship Three-Way match
Champion, Finn Balor def. Sami Zayn and Samoa Joe
Thanks for Reading
@jon422002
Jonathan Orchard